David Roberts '...have a nice life'
On Thursday 27th November 2008, in the Elphinstone Hotel, Biggar, Clydesdale Folk Club held a special music session to launch their double CD album in memory of David Roberts a very dear friend and stalwart member of the club.
David Roberts died very suddenly in June 2005.
He had touched so many people's lives locally, it was agreed we should do something in his honour. After many, many hours of ideas and deliberation in how best to produce a lasting tribute to David, the club decided to embark on what would be their most adventurous project yet, record our first CD of traditional music.
In 2007 Clydesdale Folk Club organised an evening of entertainment to pay tribute to David. Gathered together was a wonderful line up excellent local musical talent, friends and colleagues from Clydesdale and beyond who sang, played and recited poetry in his honour, which was recorded. Along with various recordings from previous sessions; including a recording of David singing his party piece 'Hermless', we pulled all the best bits from these recordings and produced a double CD album '..have a nice life'.
CD 1 – 'David and Friends' is the compilation of session recordings from the past and includes an exclusive recording by Sheena Wellington.
CD 2 – 'Live at the Elphinstone' is the recording of tribute performances for David at the Elphinstone Hotel, Biggar on the 7th November 2007.
(See below for full artist and track listings)
The live session included performances from those who contributed to this fabulous and beautifully produced CD, which was also given free by the club to those who attended as a fitting tribute and reminder of our friend David.
Clydesdale Folk Club would like to thank all the artists, audience, and production team who were part of the making of this important CD, but most importantly David's family for their support.
---
"This is a CD for and about a man who loved music, who loved people, who was fiercely proud of his Celtic roots and who touched the hearts of so many.
Looking back to his childhood, from his fi rst evening as a cub scout, David loved the scouting movement. What it gave to him, he paid back many times over the years, culminating in leading the Welsh troop to an international jamboree. Instilling young people the value of international understanding was one of his many gifts.
As a student at St Andrew's, David's involvement in so many activities led him to be elected President of the Students Union after he had graduated.
His career with the railway ran impeccably to time. While moving freight around the country and living in Scotland, Wales, England and Scotland again, he made many good friends. His fascination for moving goods and people around the world started as a young boy spending hours with out of date world airline timetables, working out how to get from A to B.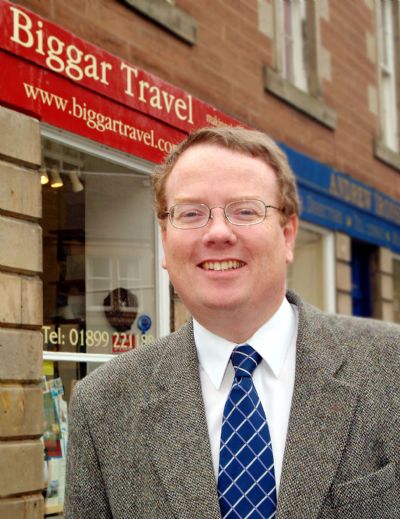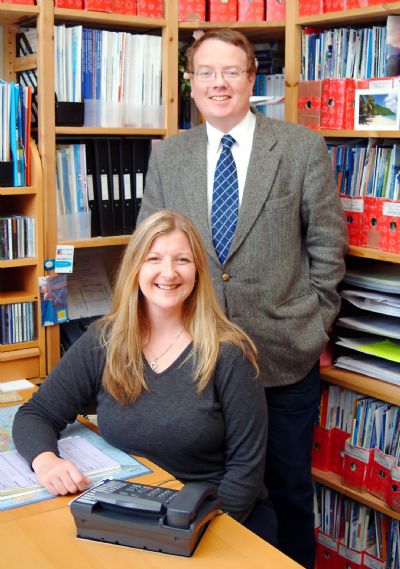 It is not surprising that starting his own Travel Agency was
the next step
when he had had his
fill
of the
corporate world. He delighted in always going the extra mile to ensure that customers had what they wanted, even if it was only a bus ticket to Glasgow. Such was his love of life that he also made time for his folk music, encouraging younger and older musicians to develop their skills; his politics, which he always kept in a discreet box; the work of Wiston Lodge giving opportunities to disadvantaged youngsters; and his friends in the Biggar Business Group.
He was also instrumental in starting Biggar Little Festival whose name refl ects the wit and humour that was central to David's personality.
Last but not least David gave so much to his friends and family. My little brother who I still thought I was looking after would make time for everyone. Reunions and family occasions were organised by him and children were always the most welcome. No wonder he never
had a television. David was an example to us all, a life well lived that carries on in the hearts and minds of everyone who knew him. This CD is a celebration of everything and everyone David loved and I hope that for all who knew him it will keep these happy memories alive and well."
Fiona Barlow
(David's sister)
---
CD inset words of tribute to David
When David Roberts died, so suddenly and untimely, he left a huge hole in many of our lives.
David was in Biggar for just seven years, but in that time he immersed himself in the community, becoming involved in different facets of the life of Biggar, and thereby doing what he loved best - connecting people and ideas. His enthusiasm and intuitive understanding of individuals and situations made all things seem possible. He saw what we needed and empowered us. Most of all, he became a good friend.
As well as being actively involved in Biggar Business Group and Wiston Lodge, David was part of the Tinto Folk Festival, out of which Biggar Little Festival was born. As treasurer of Clydesdale Folk Club, he kept everyone in order with spreadsheets and laughter.
"Have a Nice Life" was his signature parting with friends. It is a fitting title for the CD - a memorial by friends who wish to mark his passing with a tribute to someone truly special.
He was one of a kind.
And he is sorely missed.
May his memory continue to inspire us and make us smile, always.
and our thanks...
A huge heartfelt thanks to all the musicians who played, and artists who gave their permission, in the production of this CD …
…and another huge thanks to all the folk for their kind sponsorship, without whom it wouldn't have been possible:
David's parents, Crad and Anne,
Fiona and Gavin Barlow
John Wetherby, Kris Koren, and George Cockburn of Sound Sense
The Clydesdale Folk Club
Robert Allan of the Elphinstone Hotel
Biggar Little Festival
A very special thanks to Emma Luker for allowing us to use "Tinto Jig" which was played by Simon Thoumire.
---
Click HERE to view just a few photo'd taken at the session evening in the Elphinstone Hotel where we launched our CD in memory of David attended by many of his folk club friends and local musicians ... an evening of music he would loved.
'…have a nice life' – CD track listing
DISC 1; DAVID AND FRIENDS - SPECIAL RECORDINGS
Guy Heath - Davey's Got a New Hat
David - Yellow on the Broom
Ewan Kelly - Eulogy
Tom Clelland - Somewhere in a Better Place
David - Hermless
Sheena Wellington - Freedom Come-All-Ye
The Song Group with Angela Fox - Cotton Mill Girls
The Song Group with Angela Fox - Both Sides the Tweed
The Elphinstone Audience - Cwm Rhondda (Bread of Heaven)
Guy Heath - Davey's Got a New Hat
DISC 2; LIVE AT THE ELPHINSTONE
Lindsay Addison - A Tribute
Little Biggar Band - The Long Road to Linton, Sam's Reel, Ken's Reel, The Underwater Gardener
Billy Stewart - The Auld Grey Mare
Joe Lynch - Sail On
Simon Thoumire - Tinto Jig, Madam Bonaparte,The Left Handed Fiddler
Lindsay Addison - Hey Tuti Tatey, Scots Wha Hae
The Fankles - She Moved Through the Fair
Guy Heath - Sleep with an Angel Tonight
Matthew Fitt - Scotland - Sma, Lanarkshire
Robin Laing - The Laughing Boy
Tom Clelland - The Ghost with the Squeaky Wheel
Sarah Northcote and Mike Smith - Mr. Smith Goes to Livingston
The Fankles - Belgarth Waltz
Guy Heath - Have a Nice Life
---
Sound engineering and mastering by Soundsense
Cover, booklet and CD design by
John Young and Lindsay Addison
Photographs by Chris McCosh,
Lindsay Addison and Guy Heath
Produced by Tom Clelland, Guy Heath and
Chris McCosh of the Clydesdale Folk Club
© Copyright Clydesdale Folk Club 2008
---
Below are a few snaps from the live recordings at the Elphinstone Hotel 7th November 2007